Academic Team 2022 Season
The Academic Team season is over, and the scores have been totaled. Each of the six matches has all seven high schools, except this year Keystone wasn't participating, and St. John's Classical replaced them. At a match, there are three rounds, each worth more points than the last. At the end of each round, a bonus round consisting of questions of a handout for the teams to answer together within a given amount of time. The JV team consists of Freshman and Sophomores, and Varsity is Juniors and Seniors.
As a freshman myself, I was on the JV team, and played during the first round of each match. I didn't attend the Varsity matches myself because I needed to go home and complete my schoolwork, but rest assured, I'll be focusing primarily on the scores from each match, so this won't limit your knowledge about the Varsity season when compared to the JV season.
For the JV team, the final scores for the season were as follows:
In seventh place was Orange Park, scoring a total of 689 points over the six matches, meaning they averaged about 115 points per match.
In sixth & fifth were Oakleaf and St. John's Classical, tied with 781 points, meaning they both averaged around 130 points per match, only 15 more than Orange Park, showing how only a small lead per match can still make a big difference in the end.
In fourth place was Clay High, averaging about 134 points in each competition, putting them in fourth place by 25 points, meaning they had a total of 806.
In third place was Ridgeview, with 818 points, they only had a 12-point lead over Clay, and averaged about 136 points per match.
In second place was Middleburg with a massive lead over Ridgeview, totaling 906 points with an average of 150 per match.
And Finally, as you may have guessed, in first place are our own Golden Eagles. The Fleming Island JV Academic Team totaled a massive 1,247 points. We averaged 207 points per match.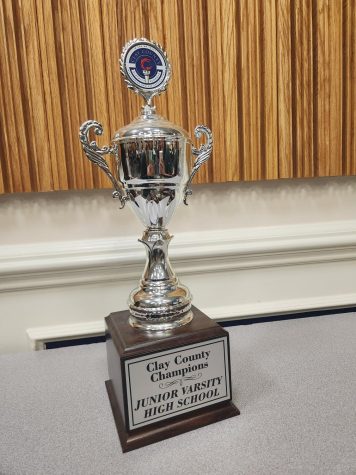 The Varsity Team also had an amazing season, with the final scores being as follows:
Clay High school was in 7th place, with a total of 638 points, if you do the math (or just let me do it), they were averaging about 106 points in each of the six matches
Next was St. John's, averaging 118 points in each match for a grand total of 713 points
5th place goes to Middleburg High, totaling 728 points and averaging 121 in each match (would like to say that I'm rounding down to the nearest whole number)
With an average of about 130 points and a total of 785, is Ridgeveiw High School, who got 4th place with only an average of 9 more points per match than Middleburg
In 3rd place is Orange Park, which achieved a grand total of 807 points and an average of 134 points per match
Oakleaf got a total of 883 points and an average of 147, giving them second place
This school earned a total of 944 points, and averaged 157 points per match, given them first place… if you haven't guessed by now, the first place Varsity team is Fleming Island high school